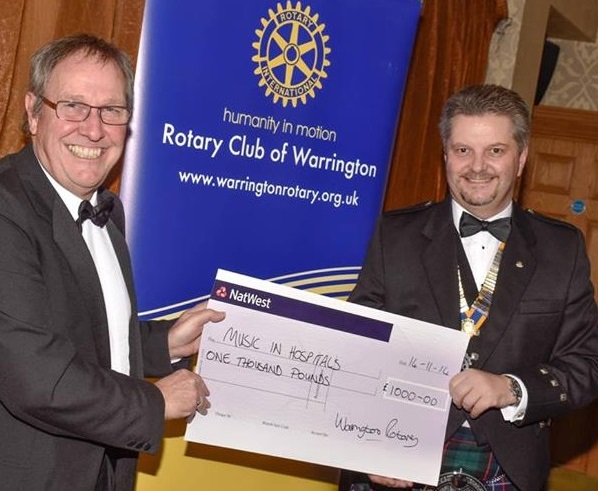 Music in Hospitals welcomes the support of local community groups who often raise valuable funds for the charity through events, competitions, benefit evenings or making us 'The Charity of the Year.'
Music in Hospitals provides an ideal vehicle for service clubs to support their local community by funding Music in Hospitals concerts in their local hospitals and care centres.
Our team also enjoy visiting local groups to give talks on how the work of Music in Hospitals benefits those in care.
We regularly work with Rotary Clubs, The Inner Wheel, The Lions, Sports Clubs, Choirs, Music Societies, Amateur Dramatics Socieites, Masonic Lodges, Social Clubs and The Women's Institute.
For further information, please call us on 01932 260810 or email at info@musicinhospitals.org.uk.
On her appointment as Chairman of No 14 Inner Wheel District, Gloria Taviner nominated Music in Hospitals as her charity for the year. As that year drew to a close No 14 District raised well over £4,000 for us which is simply fantastic.

I would like to take this opportunity to thank Gloria and her team for their efforts in supporting Music in Hospitals and making such a magnificent contribution that will allow us to bring more live music to those people most in need within the healthcare system.

Thank you.

-Steve Rowland-Jones

Chief Executive