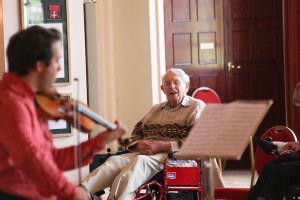 A growing body of research suggests that live music has a powerful role to play in improving the daily lives of older people in care.
At a Music in Hospitals concert, memories are revived and all kinds of emotions are released, thus allowing staff to gain fresh insights into individual backgrounds and tastes.
Members of staff or relatives often report that a patient who had not communicated since becoming ill, perhaps having suffered a stroke, joined in as the music played and their eyes and faces lit up with pleasure and understanding.